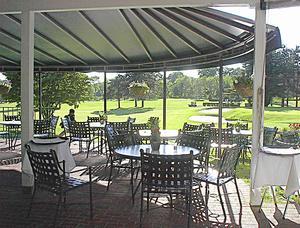 Concord Country Club was founded in 1895 as the Concord Golf Club by a group of twenty Concord residents, led by Moses B. L. Bradford. In 1900, a vote was taken to purchase the Brown Farm and form a new corporation to be called the Concord Country Club. Also that year, golf course architect, Donald Ross, was hired to design the original 9 holes at the current location and the first clay tennis court was built. The first "swimming pool" was created in 1915 by damming the brook on the present seventh hole.
In addition to it's impeccably maintained golf course, Concord has 8 clay tennis courts, a heated outdoor swimming pool with a children's wading pool and a separate paddle tennis facility.

Membership is by member invitation only. The Waiting List is open to new proposals (a member must request a proposal package on the candidate's behalf) this summer.