We would love to have you join our great team at Concord Country Club!
Click here to download an employment application.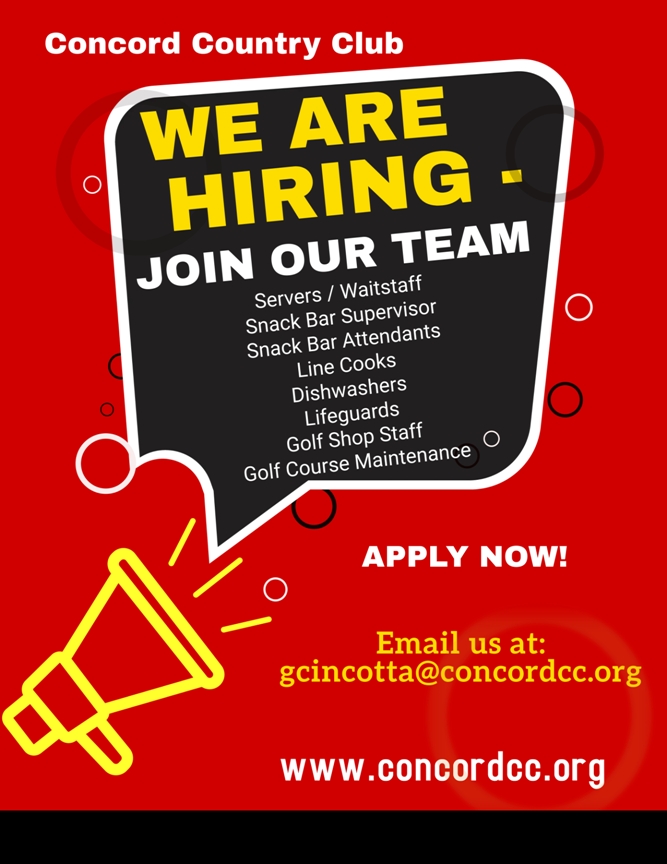 We are looking to fill the following positions:
DINING & SERVICE
Service Captain – Part time / Seasonal AM & PM Shifts
Servers – Part Time / Seasonal Am & PM Shifts
Snack Bar Supervisor - Part & Full Time / Seasonal
Snack Bar Attendants - Part time / Seasonal
Please send all completed applications to Sara Killelea at [email protected]
KITCHEN
Main Kitchen Cooks - F/T & P/T, AM & PM shifts
Kitchen Prep
Dishwashers
Please send all completed applications to Executive Chef Tim Shutt at [email protected]
LIFEGUARDS
F/T and P/T seasonal
Must have Lifeguard Training and be CPR/AED certified
Contact Ben Lawhorn at [email protected] with all inquiries
GOLF COURSE and GROUNDS
Grounds Maintenance Crew
Please send all completed applications to Golf Course Superintendent Peter Rappoccio at [email protected]
Please note the following pre-employment criteria:
Not related to a CCC Member.
Able to work the assigned schedule that may include weekends, evenings and holidays.
Able to provide valid documentation establishing legal right to work.
Possess a valid driver's license with no DUI convictions in the past 5 years.
Agree to a criminal background check.
Able to maintain appearance standards that include, but are not limited to:

Neat and clean appearance

No visible body piercings

No visible tattoos

No extreme hair colors or styles

No denim, cut-offs, halter tops or short-shorts.
You should send your completed employment application to the Club to apply.
Concord Country Club is located at 246 Old Road to Nine Acre Corner, Concord, MA. We look forward to meeting you!
Note: children of members may not be employed by the Club, but may work as caddies.