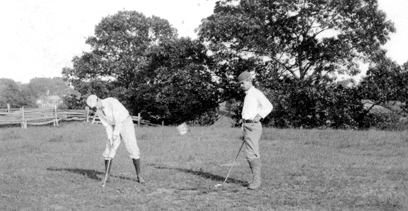 Concord Country Club was founded in 1895 as the Concord Golf Club by a group of twenty Concord residents, led by Moses B. L. Bradford. In 1900, a vote was taken to purchase the Brown Farm and form a new corporation to be called the Concord Country Club. Also that year, golf course architect, Donald Ross, was hired to design the original 9 holes at the current location. Over the years, the course has been thoughtfully maintained in order to preserve its special character.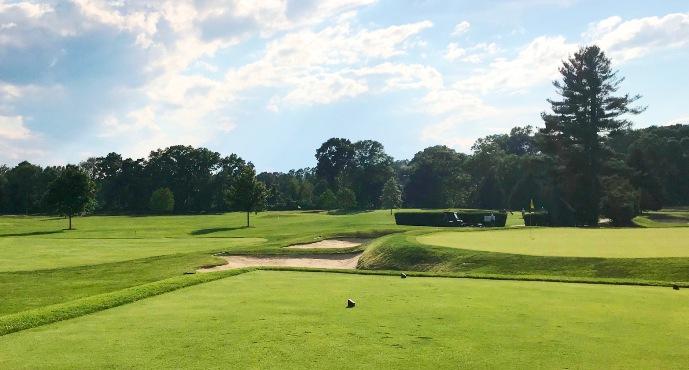 The 49th Annual Concord Invitational Golf Tournament (a four ball competition), will be played on August 7 & 8, 2020. Two divisions (one gross and one net) play Friday afternoon and Saturday morning. Participation is by invitation only, except for several entries in each division which are filled with Concord CC teams based on a qualifying round. Teams making the cut play a third round Saturday afternoon. This tournament is run by the Concord Invitational Committee.
2020 Participants: click here to complete the entry form
2019 Concord Invitational Results:
Championship Division – 54 Holes
1st: Kyle Kelly & /Alex Snickenbger 199
2nd: DJ Hynes & Victor Galvani 200
3rd: Cato Anderson & Mike Dunham 203
4th: Emilo Bardini & Peter Reilly 205
4th: Will Ahmed & Matt Paradis 205
6th: David Marseglia & Max Ferrari 206
6th: Jonathan Stoddard & James Magner 206
Senior Division - 36 Holes
1st: Bob Malcolm & Michael McCarthy 138* Playoff
2nd: Tom Bagley & Jack Watts 138
3rd: Arte Fitzgerald & Jim Dalton 140
4th: Phil Kingman & Joe Delorey 141
4th: Mike Armstrong & Jeff Fisher 141
Low – Tournament Round – Cato Anderson & Mike Dunham - 65
Click here for the article in AmateurGolf.com
Contact the Invitational Committee via email at dawson@concordcc.org
Dear Members,
I hope this note finds you and your family is healthy and safe! We are a little over a month into the golf season and the golf course is in great shape heading into the summer months. The staff has been doing a great job keeping the grass cut, filling all the divots raking the traps as often as we can. Also, the lack of rain has made for an interesting start to the season, as the roughs typically turn colors in later July not in early June! We thank you for your continued support and all the positive compliments we have received over the past month.
Many of the summer staff have arrived and we are beginning to work in the peripheral area. We should now be able to get caught up on a few things we missed the spring. We have prioritized managing greens, tees and fairways first and foremost and then will work outside of that as resources and time allow.
Looking ahead, we have a few events scheduled for this summer with the Men's Member/Member at the end of June followed by the New England Amateur Championship in July. We are excited to show the course off to the participants and the staff is looking forward to hosting a great event!
I wanted to update you on the irrigation project. First starting with the pond, this week you'll see some trucks moving in and out hauling material away from our old dump site on the 17th hole. This area hasn't been used in several years but needed to be cleaned up because of its proximity to the wetland area. The contractor also completed a mitigation planting plan behind the 17th black tee this past week as required by the towns Natural Resource Department. These plants and shrubs are being maintained by the staff and will fill the border along the riverfront area. In terms of the pond, many of the sand piles located around the edge of the pond will be knocked down, re-graded and cleaned up. We will also be adding some loam to several areas and seeding the edges of the pond in an effort to clean up the aesthetics around the 3rd, 16th & 17th areas.
With regard to other portion of the irrigation project, the stakes you may have noticed along the waterway by the 1st, 7th and 17th holes are for flagging the wetland boundary. This is necessary as we need to replace the existing lines that are located in the creeks now. This is part of a natural resource commission filing that we have to get approved prior to construction scheduled to begin in October.
It has been a pleasure to see see so many faces on the golf course and we continue to look forward to seeing everyone over the next few months. If it any time you have any questions or concerns about the golf course please feel free to reach out to me.
Thank you!
Peter
Peter J. Rappoccio, CGCS
Golf Course Superintendent
May 8, 2020
Dear Member:
I hope this email finds you well and that you and family are staying safe and healthy. I wanted to provide you with an update on what the staff has been working on over the past month. We are excited to have everyone back to show off the course!
As I'm sure you are all aware, the Governor has closed all golf courses in the state of Massachusetts through May 18th. Golf course maintenance is allowed to continue as an essential service as long as we comply with CDC guidelines. In accordance with these guidelines, we have split the maintenance team into two groups starting and ending half an hour apart and taking separate lunch breaks. The maintenance facility and equipment is cleaned each morning and we have limited cart usage to single riders only.
Overall, the golf course is in great shape heading into spring. The staff took advantage this winter by cleaning many of the understory areas between several holes and much of the course is free of debris. Most of the areas between holes 2, 3, 4 and between 2 and 16 are clear of leaves (which will make it easier for me to find my golf ball!) The course also had tree work completed using CCC staff and hiring an outside contractor. There were several trees removed along the right of the 13th hole and focused pruning was completed on other areas around the course. Much of the brush work and small removals was done by CCC staff. Our staff did a great job this fall and winter getting everything ready for 2020! As an update for the month of April, lots of routine spring maintenance items have been completed.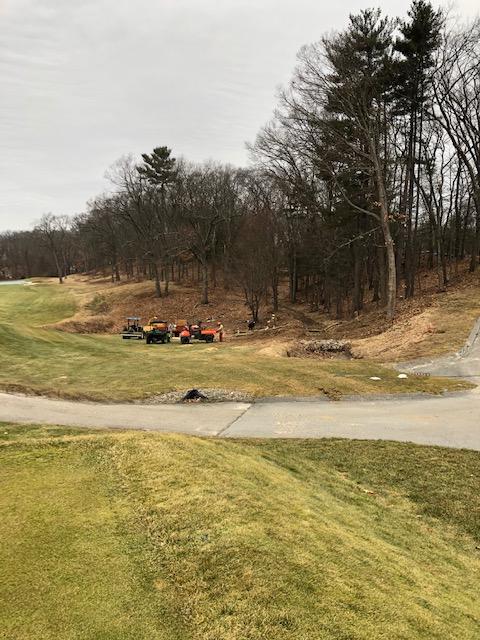 All of the greens have been aerified and topdressed. The recovery process has slowed with the colder temps in April but with the warmer weather to come should allow the greens to fully heal.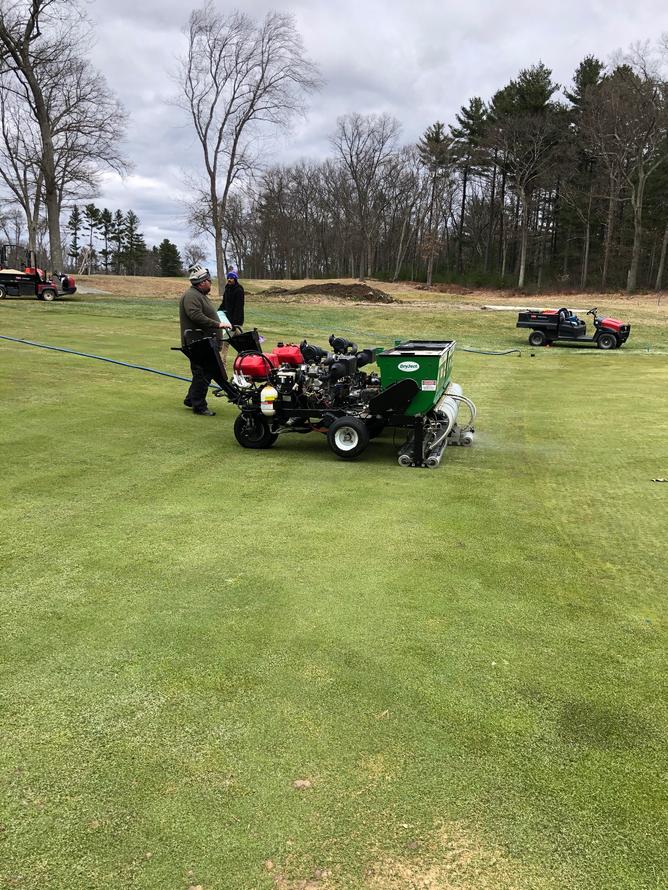 We have also dryjected (sand-inject) all of the approaches and conducted a deep verticut to remove thatch. This program started this spring will allow us to 'firm up' the approaches by changing the soil profile.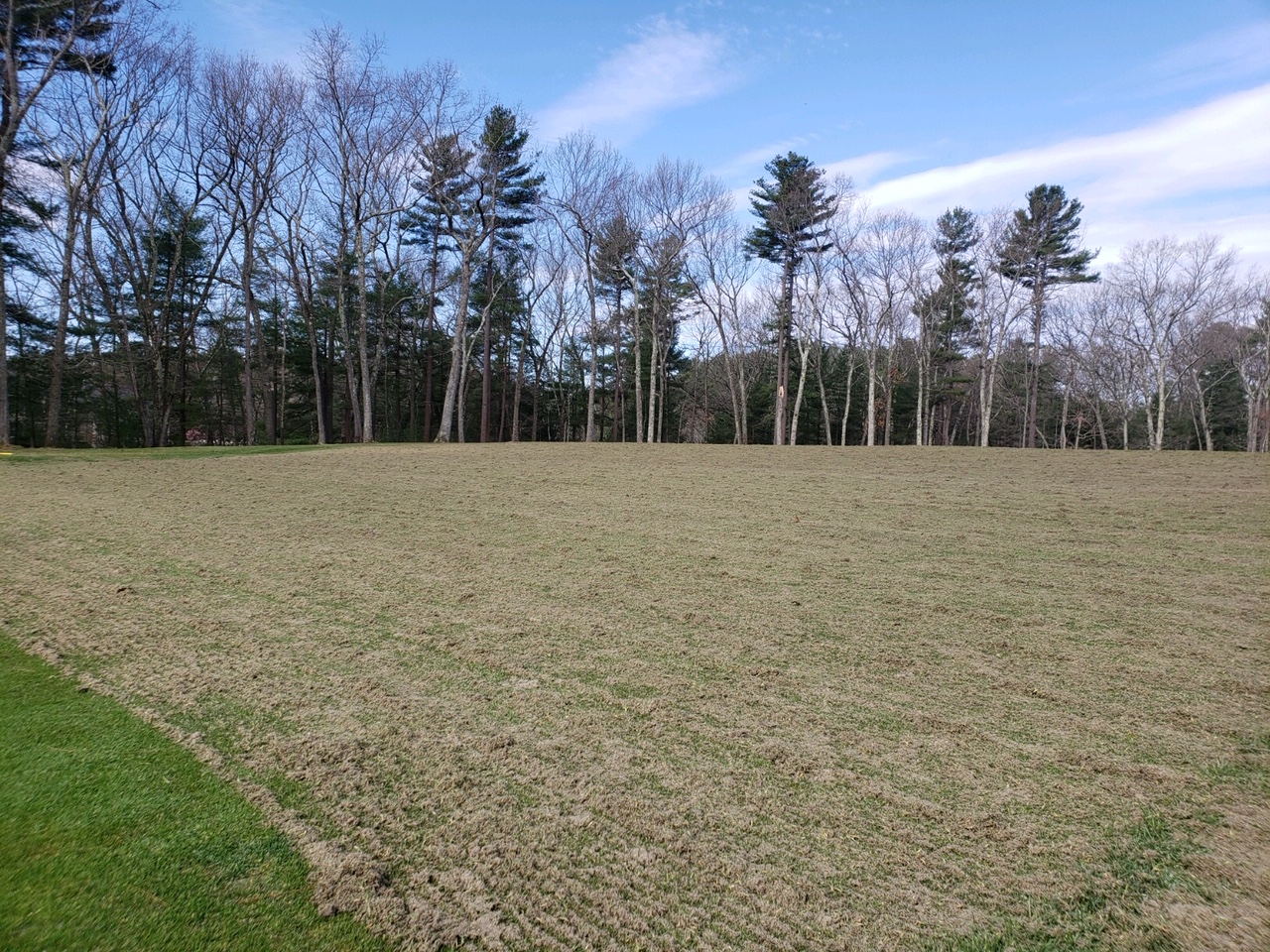 Many of the tees have been aerified as well and we plan on doing some more work on them through venting and fertilization. The fairways have all been cut and sprayed, and the staff plans on verticutting the fairways at some point in early May with the new verticutter that we purchased last season. Fairways will not be aerified and topdressed this spring as we have postponed it to the fall.
All of our roughs and native areas have been mowed and cleaned up. As the weather warms, we will do our best to keep up with the 30+acres of rough we mow. Spring is an important time for preventative weed and insect control, and most of the weed and insect program is completed in the two weeks leading up to middle May.
One of the nifty things we accomplished this spring was our divot program. The staff has filled just about every tee and fairway divot on the course! We are hoping the warm weather will allow everything to grow in before you can play. When we do open, there will be some limitations on what will be allowed on the golf course. We expect that water coolers, benches, ball washers, divot boxes, and bunker rakes will be kept inside until deemed safe to put out again. Not to worry, since golfers won't be able to fill divots and rake bunkers, the staff who normally take care of water coolers and moving divot boxes etc. will be refocused on raking bunkers and filling divots. With regards to the flagstick/cup, the method for which to minimize touching is still being determined and will be resolved before we open.
In terms of the irrigation pond project (click here to view the plan), we ran into significant delays with the town of Concord. We were informed that two special permits were deemed necessary to implement the project. Consequently, we revised our plan to fit with the engineering and water/sewer department requirements by the town. Our engineering firm has now met all of the requirements of the town and we plan on going before the Natural Resource Commission on May 6th and the Zoning Board of Appeals on May 14th. We have added significant drainage and other accommodations to the area as well as provide scientific evidence on ground water, soil type, irrigation efficiency, and other related items to the project. Assuming that the town's meeting schedule stays consistent, we are hopeful that the project will continue as scheduled. At this time, we still plan on starting with the irrigation piping system portion of the project in mid-October.
I hope many of you have been able to get outside a bit and enjoy the fresh air. For those who have taken up their own landscaping at their house, this is a great time of year to introduce seed to your lawns. The cooler temps have slowed germination of grass but also summer weeds. Just make sure you get the grass seed down ahead of any crabgrass preventative control. Usually a good rule of thumb is to wait two weeks before you put your crabgrass product out. Also be on the lookout for any broadleaf weeds that will be popping up in mid-May. May is the time when many of the weeds will start to germinate and produce seed which will help repopulate them in the fall. Being able to get after them now will help reduce fall populations.
One of the rewarding parts of my job is managing the course for the membership. I really enjoy conditioning the course to play the game we all love and getting the opportunity to interact with many of you. Unfortunately, given the current situation we haven't been able to do that yet this spring. Hopefully, we will be able to open the course extremely soon. I think you'll be happy to see all of the great things the staff has accomplished this winter and spring.
I am fortunate to have a terrific team in place this season. I want to personally thank them for showing up each and everyday during these difficult circumstances and putting forth their best effort to get the course ready. Please continue to stay safe and healthy! I'm looking forward to seeing you all on the course!
Regards,
Peter J. Rappoccio, CGCS
CCC Member William L. Healy, MD has created and published a wonderful written, gorgeously photographed and thoroughly researched hard cover book on the history of golf at Concord Country Club. You can purchase your copy for $99 in the golf pro shop. Contact the shop at 978-369-2382.