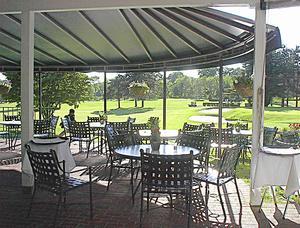 Concord Country Club was founded in 1895 as the Concord Golf Club by a group of twenty Concord residents, led by Moses B. L. Bradford. In 1900, a vote was taken to purchase the Brown Farm and form a new corporation to be called the Concord Country Club. Also that year, golf course architect, Donald Ross, was hired to design the original 9 holes at the current location and the first clay tennis court was built. The first "swimming pool" was created in 1915 by damming the brook on the present seventh hole.

Membership is by member invitation only.

Private events may be booked with a member sponsor.
The 47th Annual Concord Invitational Golf Tournament (a four ball competition), will be played on August 3 & 4, 2018. Two divisions (one gross and one net) play Friday afternoon and Saturday morning. Participation is by invitation only, except for several entries in each division which are filled with Concord CC teams based on a qualifying round. Teams making the cut play a third round Saturday afternoon. This tournament is run by the Concord Invitational Committee.
Click here for the 2017 results.
Contact the Invitational Committee via email at dawson@concordcc.org